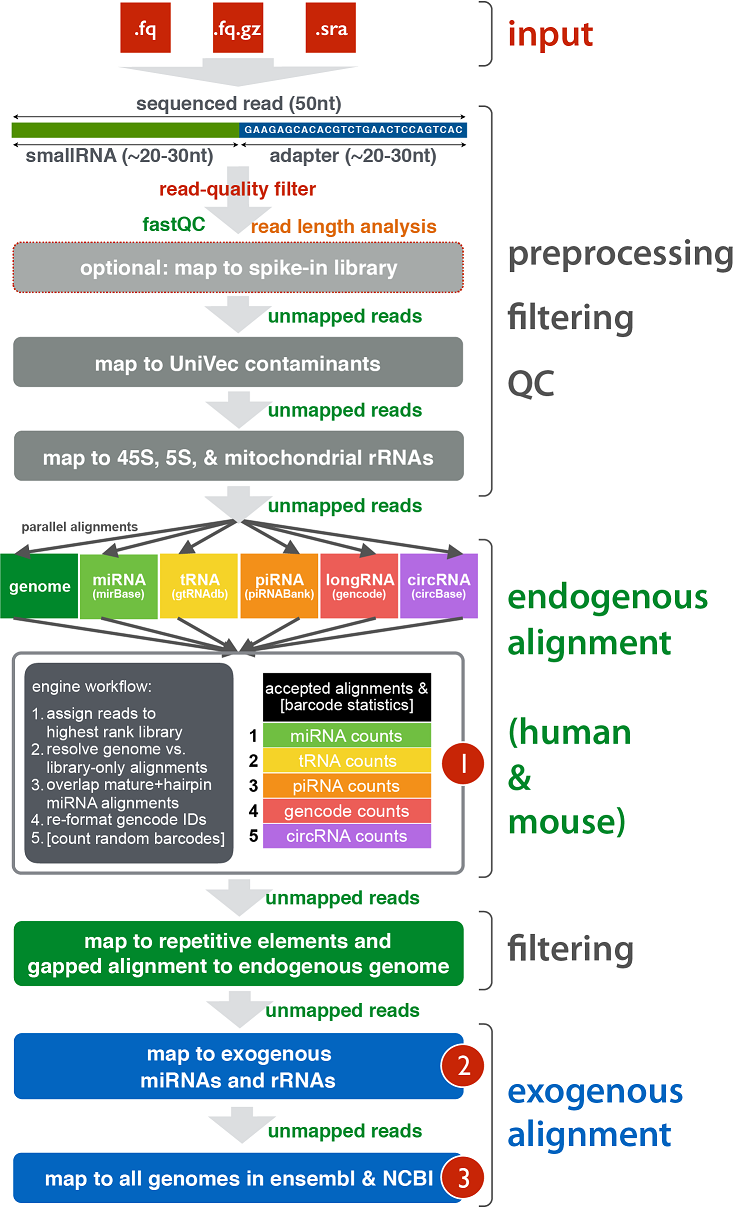 exceRpt Small RNA-seq Pipeline
The extracellular RNA processing tool (exceRpt) utilizes its own endogenous alignment and quantification engine to map and profile various small RNA libraries - these include miRNAs from miRBase, tRNAs from gtRNAdb, piRNAs from piRNABank, annotations from Gencode, and circRNAs from circBase. exceRpt also allows users to map to exogenous miRNAs and rRNAs as well as a large variety of exogenous genomes (bacteria, viruses, fungi, metazoa, etc.). Abundance estimates for each of the requested libraries are given as output, as are a variety of quality control metrics such as read-length distributions, summaries of reads mapped to each library, and detailed mapping information for each read mapped to each library. exceRpt also supports *N random barcode identification on the inner edges (3', 5', or both) of adapter sequences. These random barcodes help normalize the read-counts for amplification artifacts and serve as an alternative to the read-count for smallRNA quantitation.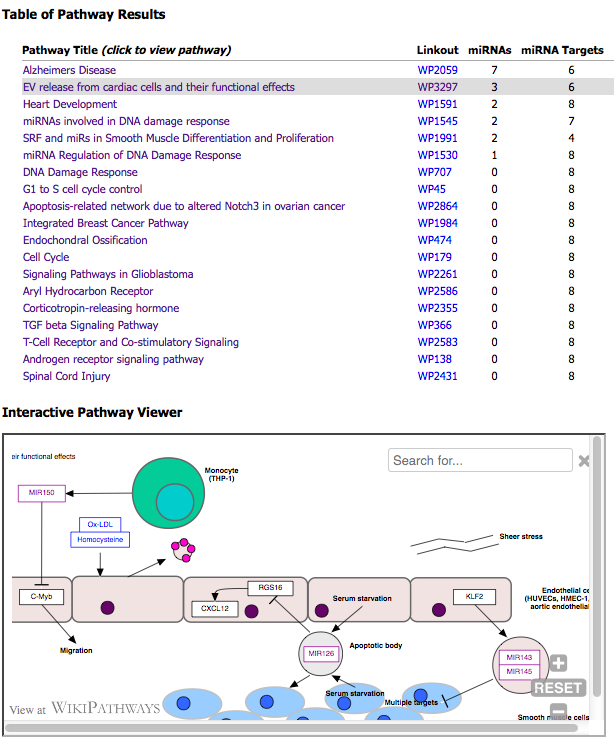 Pathway Finder
The Pathway Finder tool takes a column of miRNA identifiers from an input TXT file and performs a search for pathways either containing your miRNAs of interest or protein targets of your miRNAs. A table of pathway results and an interactive pathway viewer are displayed. The first column of the table lists a clickable pathway title that updates the viewer. The second column lists pathway identifiers that link to WikiPathways.org. The list is sorted by the number of "miRNAs" (primary) and by "miRNA Targets" (secondary) found on each pathway. The top 20 results are listed. Users can also access the Pathway Finder tool by using the ncRNA Search Bar on the exRNA Atlas.