Overview
Comparative and Downstream Analysis of Samples Using the Genboree Workbench¶
We have a number of different downstream / comparative analysis tools available in the exRNA Atlas.
By selecting your samples of interest and then selecting your tool of interest, you can move into the Genboree Workbench where you can then perform your analysis.
We will go through the process step-by-step below.
Step 1: Selecting Your Samples of Interest¶
The first step to running your analysis is selecting your samples of interest.

We recommend using the faceted charts (all tools may not be available for other types of grids).
Click the appropriate facets and then click the magnifying glass icon to show corresponding samples in a grid.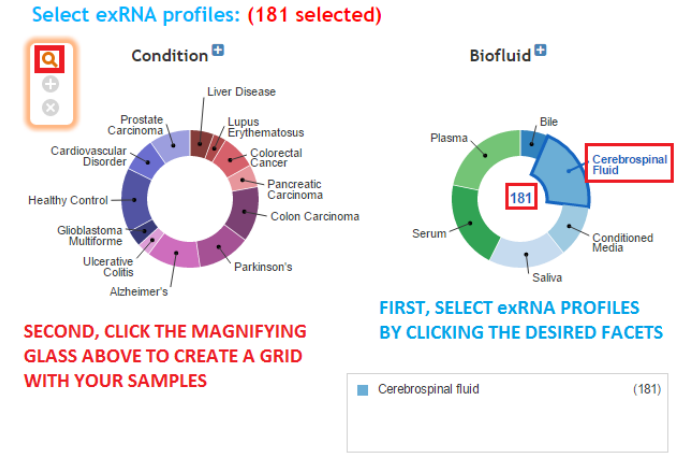 After you have generated your grid, you will need to select the specific samples you want to analyze.

You can select specific samples by using the checkboxes to the left of each sample.
To select all samples, click the checkbox in the upper left corner of the grid.
The different metadata columns (Condition, Anatomical Location, etc.) should help you figure out which specific samples you want to analyze.
You can also click on the right side of a given column to sort that column, place filters on that column, or disable any column in the grid.
Step 2: Selecting Your Tool¶
After you've selected your samples, you'll need to pick out a tool to run on those samples.

You can click the "Go to Genboree Workbench" button to see available tools.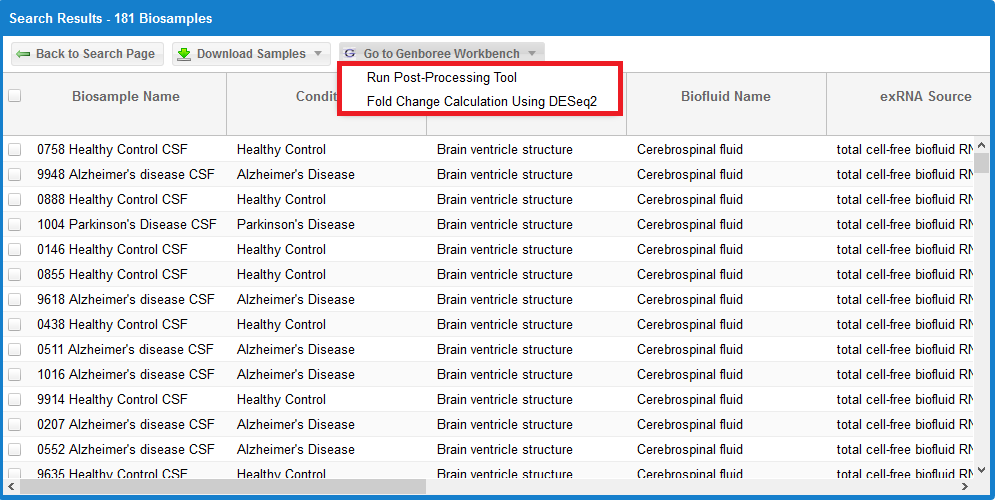 We currently have the following tools available:
You will be prompted to log into the Genboree Workbench once you choose a tool.
This means that you must have a Genboree account in order to use the tools.

If you have an account already, just fill in your login information and then click the "Login" button.
If you don't have an account, you can click the "Register here!" link to create one.
Once you've logged in once, you won't need to log in again for that Atlas session.
After you've logged in, you'll be able to select the Group and Database which you want to use to store your output files for that tool run.

Each Genboree account starts with a Group (named after your username), but you will need to create a Database to use the tools.
If the Group you select doesn't already have a Database, we will offer to create a Database for you (named "Exrna-atlas Output").

To learn more about Genboree Groups and Databases, see this FAQ page.
Step 3: Running Your Tool¶
Once you click "Activate Tool", you will be taken to the Genboree Workbench.
Your Input Data panel and Output Targets panel will be filled in automatically by the Atlas.
You can then select your tool of interest from the Workbench menu bar, fill out the appropriate settings, and then launch a tool job.