Welcome to the GenboreeKB Redmine!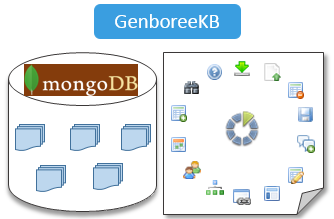 The Genboree KnowledgeBase (GenboreeKB) is an integrated software service developed at the Bioinformatics Research Laboratory (BRL) that allows storage of data in user defined collections in a document based Mongo database.
In addition to the usual Redmine functionality, this version has our custom developed "Genboree KBs" plugin, allowing Redmine Projects to display a GenboreeKB tab containing a GenboreKB UI for visualization and management of the data stored in the Mongo database. This tab is enabled and configured by Project administrators, in cooperation with Genboree system administrators.
Click the buttons below to learn more about GenboreeKB or view the list of Redmine projects.
This Redmine also has our "Genboree Auth" plugin, and in order to Sign In you will need a Genboree account at genboree.org.
---
Learn More About GenboreeKB Redmine Project List
---
For any questions or comments, please contact genboree_admin@genboree.org