You will be submitting your files for processing through our FTP server (ftp.genboree.org).
You will also need to create a remote storage area on the Genboree Workbench.
This is where your result files will be deposited when exceRpt finishes processing your samples.
Creating a Genboree Account¶
Before you can obtain an account on our FTP server, you will first need to create an account on Genboree: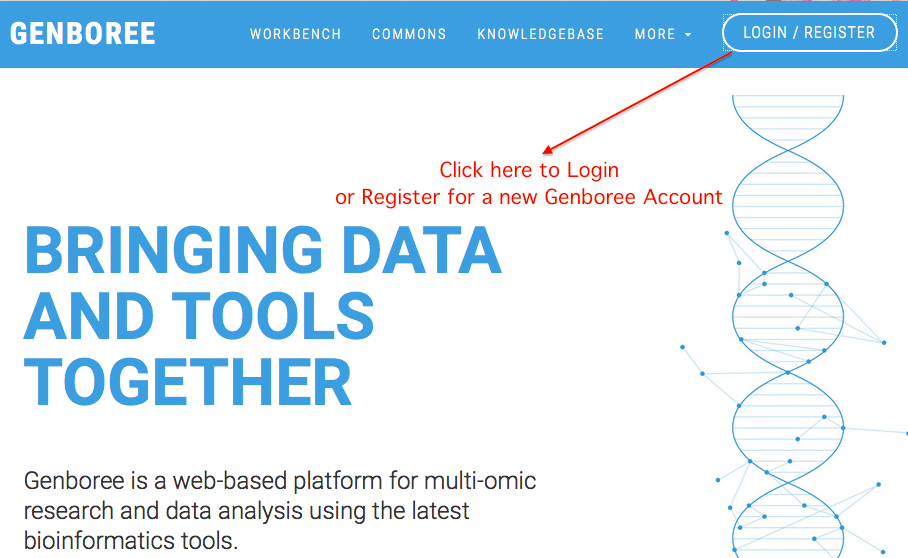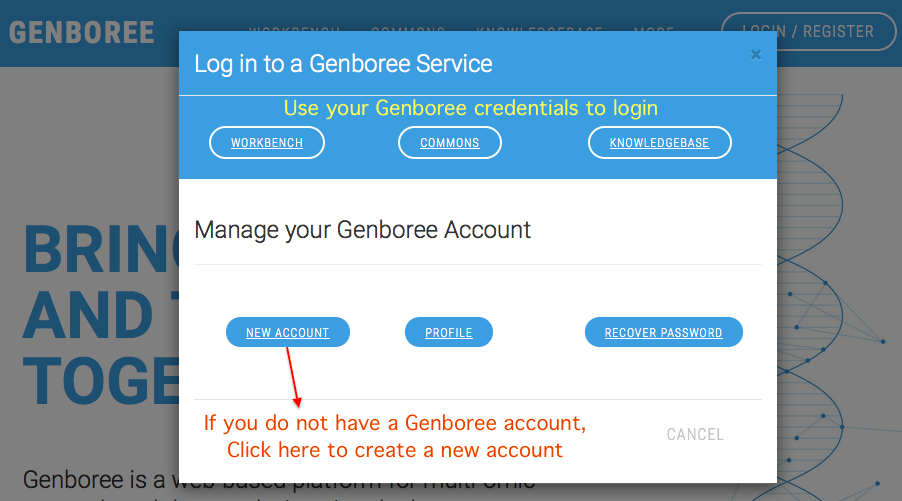 Creating an FTP Account¶
After you register for an account on Genboree, you will be able to log into any part of the Genboree website (Workbench / Commons / KB).
To activate your GenboreeKB access, go to GenboreeKB and log in using your Genboree username and password.
E-mail Sai Lakshmi Subramanian, member of the DCC at BCM, with information about your lab,
including your lab's name, your PI's name, and your Genboree username.
Sai will create an FTP account for you and then send you the name of your lab's private, unique directory.
This directory will be used for submitting data and will be restricted to your lab.
The directory will be named after your PI - for example, if my PI was John Smith, then my directory would be called "exrna-JSMIT1".
Multiple people can share the same directory for submitting files, so long as they're all part of the same lab / group.
Your login information (user name and password) will be the same as for your Genboree account.
Once you log in, you will be able to see your lab's shared directory.
Genboree FTP Server Details¶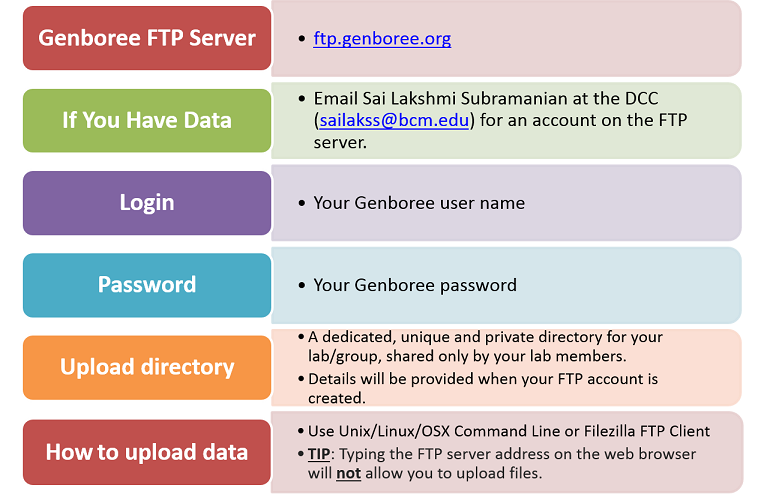 Creating a Remote Storage Area on the Genboree Workbench¶
You need to create a remote storage area on the Genboree Workbench in order to submit your files for processing.
You will create your remote storage area in the Database of your choice.
If you're unfamiliar with Genboree, you should first learn about Groups and then learn about creating Databases.
Note that your account comes with a default group named after your user login.
You should pick a Group name and Database name that have some connection with your lab and the data you're analyzing.
For example, I'm part of the Milosavljevic lab, so I might name my group exRNA Milosavljevic.
Then, if I had one submission that was hg19 samples and another submission that was mm10 samples, I might create two databases: hg19 Samples and mm10 Samples
After you have created a Database, you should drag it from the Data Selector panel to the Output Targets panel.
Then, you can select the Create Remote Storage Area tool in the tool menu at the top of the screen:

When you click the Create Remote Storage Area button, a window like the following will appear: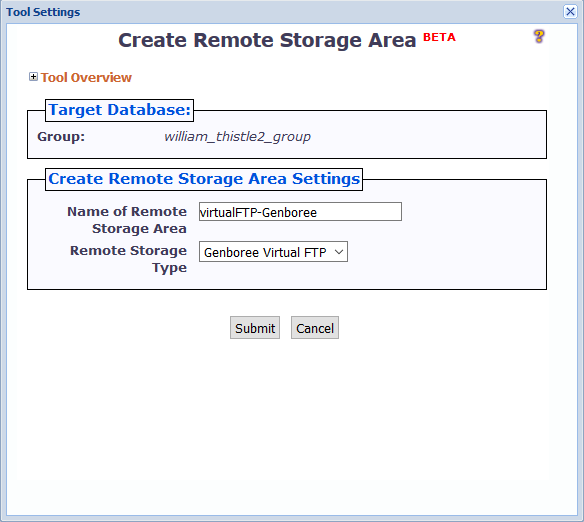 There are two different settings you can change:
Name of Remote Storage Area
Remote Storage Type
You can name the remote storage area anything you want, so long as the name is unique among folders in the Files area of your Database.
This is because the remote storage area is represented as a folder in the Files area.
I would recommend a name like "exceRpt Results".
Under "Remote Storage Type", you can select the particular type of remote storage area that you want to create.
Go ahead and keep the default option of "Genboree Virtual FTP".
After you click "Submit", you will receive notification that your remote storage area was successfully created (or an informative error message if something went wrong).
Your remote storage area will now be available in the Files area under the Database you chose: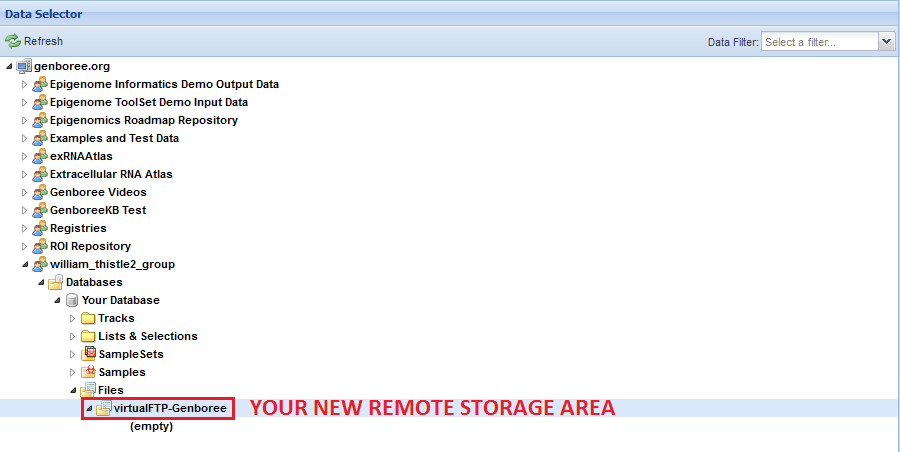 Summary¶
Create an account on Genboree
Activate your GenboreeKB account
E-mail Sai Lakshmi Subramanian with information about your lab (lab name, PI name, Genboree user name)
Wait for e-mail confirming that FTP account has been created
Create a remote storage area for your Database in the Genboree Workbench